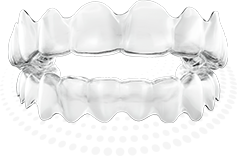 Invisalign®
Invisalign® is one of the most popular orthodontic treatment systems currently available, owing to its efficacy and discretion.
It utilises a series of removable aligners made of a transparent plastic that gradually move the teeth into a more cosmetically pleasing position.
Invisalign® aligners are invisible to the untrained eye, allowing adults and children to achieve straighter teeth without worrying about their appearance.
3D scans of your mouth will be transferred to the manufacturer's ClinCheck® software. ClinCheck® allows your dentist to map out your entire treatment plan, order your aligners, and even show you how your teeth will look after the treatment.
Your aligners will be ready in 1-2 weeks. Then you will take them home and begin your treatment. Wear the first aligner in the set for 20-22 hours a day over the course of two weeks. Then switch to the next one in the series and repeat the process.
Patients can remove their Invisalign® aligners for eating, brushing, and flossing, allowing for a better standard of oral hygiene compared to many of the alternatives.
Our mission is to provide affordable and excellent orthodontic care, using the latest technology to enhance the oral health of our patients. If you are interested in Invisalign® treatment, contact us on 0120 261 2787 to book your consultation.
Back to Treatment